Welcome to Hotel BlueBay Banus****
Located in the exclusive area of Puerto Banus, just a few metres from Mistral Beach, the BlueBay Banus is a cosy 4-star hotel on the Costa del Sol, which is an ideal choice for families with children, couples and groups of friends. The peace and quiet at the BlueBay Banus is just one of its main attractions. This hotel in Puerto Banus has 28,000 m² of spectacular subtropical gardens, where you can enjoy wonderful gastronomic experiences in its restaurants and bars, relax in its spacious rooms, have fun with a range of entertainment for everyone and stay active with its sports and activities. Enjoy BlueBay Banus a unique accommodation experience. Book now for the best price at a hotel whose style is that of a traditional Andalusian village and offers relaxation and fun.
Hotel BlueBay Banus****
Rooms
Spacious, bright, fantastic services and paradisiacal surroundings… the rooms at the BlueBay Banus rooms combine relaxation and pleasure so that you can enjoy a comfortable holiday in the exclusive area of Puerto Banus. Check out our rooms and book with total confidence on the BlueBay Banus official website.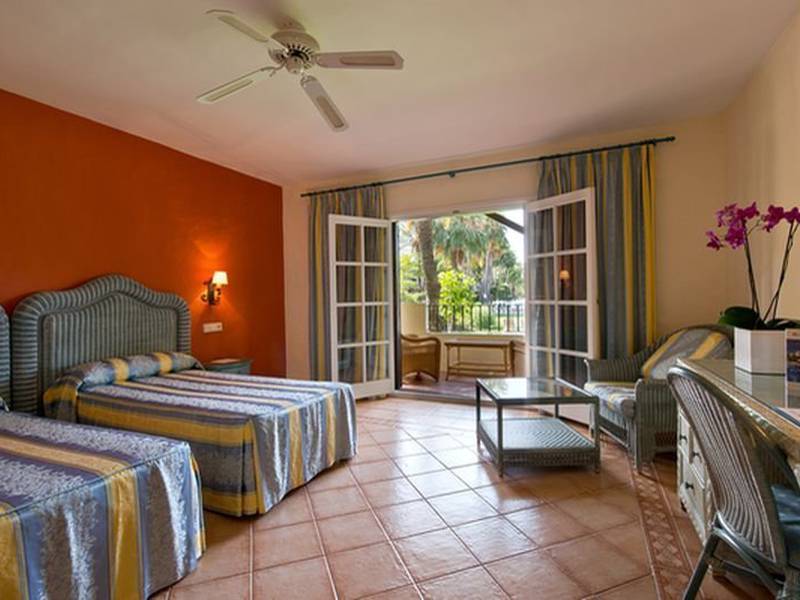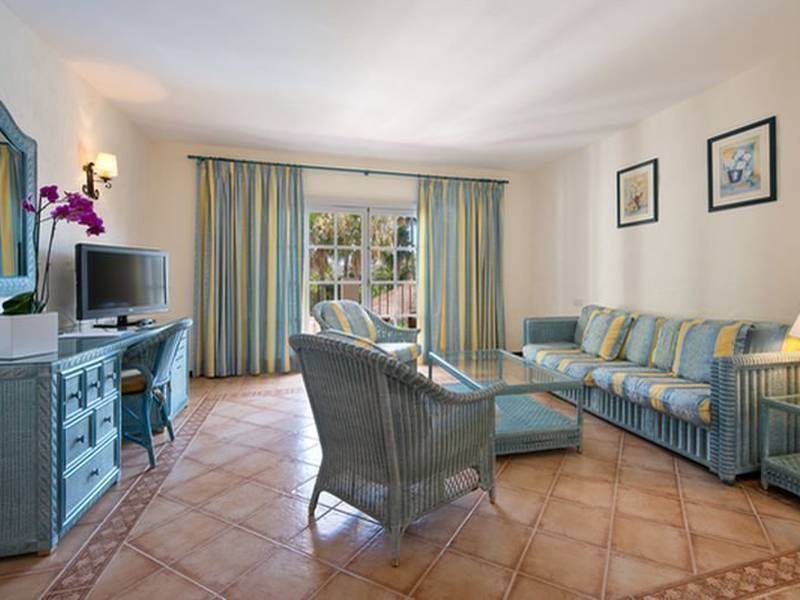 Photo
gallery
The BlueBay Banus hotel Image gallery allows you to experience the charm of this hotel with an Andalusian style and decor. Start now to enjoy everything that awaits you on your next holiday in Marbella and discover all the facilities and services at this cosy hotel with more than 28,000 m² of spectacular subtropical gardens.
Sweet
deals
Check out all the offers at the BlueBay Banus hotel in Marbella. Here we provide you with a wide selection of offers, special rates and exclusive discounts that will help you to book your dream hotel on Costa del Sol at the best price online. Find the best promotions on all your reservations in this oasis of tranquillity.
Hotel BlueBay Banus****
services
To experience an unforgettable holiday in the exclusive area of Puerto Banus, we provide you the services and facilities of the BlueBay Banus. Find here a wide range of services and facilities designed to guarantee comfort, fun and relaxation: spectacular gardens, 3 outdoor swimming pools, restaurants and bars, shows and live music, a playground with mini-club, meeting rooms, entertainment programme and activities such as yoga and Pilates. Find here everything you need to have fun on your holiday and relax in your hotel in Puerto Banus.
The BlueBay Banus brings you closer to one of the most sophisticated places on the Costa del Sol: Puerto Banus. From here you will be a step away from the beach of Mistral, the boutiques of Nueva Milla de Oro in Marbella and the luxurious Puerto Banus. The location also allows you to practice golf in the 50 (approximately) golf courses found nearby, enjoy exclusive shopping, get to know the Roman village of Río Verde and taste the delicious local food.
Autovía del Mediterráneo, Km 173 29660 Marbella – Málaga, Costa del Sol. España.
Contact
us
Find here all the contact details of the BlueBay Banus hotel. Here you will find the updated: email, telephone, postal address. Furthermore, if you prefer we have a web form service that allows you to contact us directly and be assisted by our team. Personalised service only available on the BlueBay Banus official website.

Call Center:

-Spain: (+34) 911 455 163
-Germany: (+49) 8912234587
-United Kingdom: (+44) 0203 499 5174
-International: (+34) 911455163 // (+1) 8334840789

Phone number:

+34 952 811 517
Best price online
Guaranteed
"Direct shopping, without intermediaries!"
"Available 24h a day, every day of the year!"
"You won't find a better rate for our hotels on any other website!"